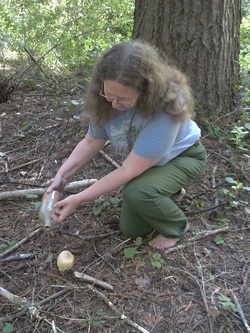 The princes are up and my roses are blooming! What a combo! Roses were often used in cooking meat in the middle ages, and still are in some parts of the middle east. The best roses for cooking are the old, fragrant varieties, moss roses, gallicas, centifolias, damasks, etc. The deep pink to purple varieties give a nice color, as well as flavor. I used my purple moss rose, William Lobb.

Serves 6 to 8
6 med. to large fragrant roses
1 1/2 to 2 lb. pot roast: chuck or round roast
1 tablespoon berry jam or preserves
1 tablespoon cider or red wine vinegar
2 nice big princes
1 onion
1 tablespoon butter
3 carrots
1 beet (optional)
1/4 cup red wine
1 to 2 teaspoons salt, or to taste

Puree the roses in a blender with 2 to 3 cups water. Put the roast into a pot or crock pot, along with the rose puree and another quart of water, the jam, and the vinegar. Simmer on top of the stove for about 4 hours, or in the crock pot for about 6 hours, or until the meat is tender, replacing water as it boils down.
Slice the prices, and chop the onion. Melt the butter in a frying pan and saute the mushroom and onion until the mushroom is cooked and the onions translucent. Add them to the pot.
Slice the carrots, and julienne the beets. Chop the beet tops and set aside. Add the carrots and beets to the pot, and simmer 15 minutes. Add the beet tops, the wine and the salt. Simmer 3 minutes. Pull the roast apart with two forks into chunks. Serve in bowls with broth. Bread may be served to sop up the broth, if desired.