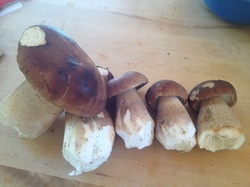 This is a fantastic marinade for steak, either to barbeque, broil or fry.

Makes marinade for 1 steak

1 tablespoon chopped dried porcini (Boletus edulis)
1 tablespoon red wine vinegar
1 tablespoon Bragg's Aminos or soy sauce
1 clove garlic
1/4 cup red wine
1/4 cup water
1/4 teaspoon rosemary
Combine all ingredients and allow the mushrooms to soften for 1/2 hour. Puree the marinade in a blender. It should be thick, like a paste, but if it is too thick to puree well, add a little more wine. Spread the marinade on both sides of the steak, cover, and refrigerate 6 hours to 3 days. Cook as desired.