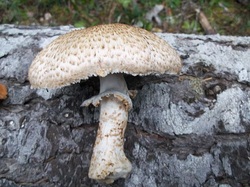 1 tablespoon butter
1/2 onion, minced
1 1/2 cups finely chopped prince
1 clove garlic, minced
1 pint sour cream
1/2 teaspoon salt, or to taste

Melt the butter in a frying pan. Saute the onion until it is softening. Add the mushroom and saute until half-cooked. Add the garlic and saute until the onion and mushroom are done. Cool and stir into the sour cream. Add salt to taste and serve with potato chips. Also excellent on baked or mashed potato.

We've taken this to events a couple of times, and people really love it!