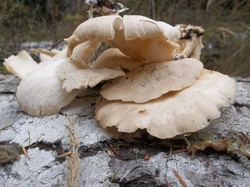 I got invited to share in a windfall of oyster mushrooms that a friend found. Here's the soup I made with them for dinner a couple nights ago.

Serves 6 to 8

2 tablespoons butter or oil
1 onion, chopped
2 to 3 cups sliced oyster mushrooms
1 cup chopped celery
1 potato, diced
2 cloves garlic, minced
1/2 teaspoon thyme
1 quart veggie or chicken broth
1 cup milk or half and half (optional)
Salt to taste

Saute the onions in the butter until they are golden. Add the oyster mushrooms, potato and celery, and saute until they are softened. Add the garlic and thyme; saute a few minutes longer.
Put half the mushroom mixture in the blender, add broth to cover, and puree. Pour into a 2 quart soup pot, and add the remainder of the broth. Heat to a simmer. Add milk if desired, and salt to taste.