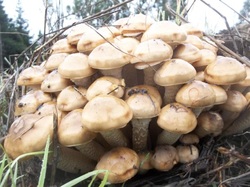 I found these honey mushrooms growing on a large Eucalyptus stump. I rarely bring honey mushrooms home, as I don't have them near my place, and I have an orchard, which I don't want infected. But these were so huge and tender and juicy and luscious that I succumbed to their allure. Here's one of the things I did with them. It is not an authentic carbonara sauce, but it's really good. Prosciutto is often used in carbonara sauces, but I had some home-brined candy cap ham, which I used in its place. I served the carbonara sauce over spaghetti squash, but pasta would be more traditional. The sweet, nutty flavor of the honey mushrooms was delicious in this dish.

Serves 2

2 or more tablespoons olive oil (you may include a teaspoon of bacon grease, if desired)
1 to 1 1/2 cups sliced honey mushrooms (or try porcini, butter boletes or shaggy manes)
8 green onions, chopped
2 cloves garlic, finely chopped
1/3 cup chopped prosciutto, ham or 1/2 cup chopped cooked and drained bacon
1 tablespoon sliced black olives or capers (optional)
1 egg
2 tablespoons grated Parmesan cheese
salt to taste
pasta for 2

Put the water on for the pasta, adding it when the water is boiling.
Meanwhile, in a skillet, warm the olive oil, then saute the mushrooms over medium heat until they are well cooked. Add the onions and garlic, saute a few minutes until the onions soften. Add the meat and olives, stir until they are heated through. Stir in the egg and cheese; turn off the burner and lid the pan while you plate the pasta.
Taste the sauce and salt if needed; divide over the pasta and serve immediately.