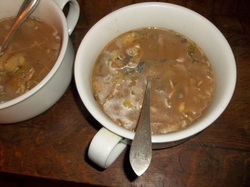 Serves 2

1 cup sliced matsutake
1 teaspoons soy sauce
1/4 teaspoon sesame oil
2 teaspoons candy cap syrup (optional)
1/2 cup chopped onion
1 thin slice of ginger, slivered
2 teaspoons butter
2 or 3 green onions, chopped
2 to 3 teaspoons red or white miso

Toss the matsutake mushroom in a bowl with the soy sauce, sesame oil and candy cap syrup (recipe in Wild Mushroom Cookbook). Let marinate 10 minutes. In a small bowl, blend the miso with a few tablespoons of water, until the paste thins so it will mix easily.
Meanwhile, melt the butter in a frying pan and begin sauteing the mature onion and the ginger, over medium heat. Add the mushrooms with their marinade, and cook until the mushrooms are done and the onions are just beginning to brown. Add the green onions, and cook until they are limp. Add the miso, and heat to serving temperature. Do not boil.