If you do not have crocodile agaricus, you can use any other Agaricus, including the Prince; or you can use Portabellas or other cultivars of A. bisporus.

Croc, Asparagus and Avocado Omelette

Saute the asparagus and mushroom in the tablespoon of butter or oil until the asparagus is bright green and the mushroom is softened. Meanwhile, break the eggs into a bowl, and beat them. Begin to heat an omelette pan or a second skillet, over med-low heat, with the remaining butter or oil.
Add the scallion and garlic to the asparagus, and saute a few more minutes. Meanwhile, pour the eggs into the second skillet, and shake it or slant it to spread the eggs over the bottom of the pan. When they start to set on the bottom, sprinkle on the cheese on half the eggs. Then add the mushroom/asparagus combo. Lid the pan until the cheese melts, them top with avocado slices, fold over, and serve as one large serving, or cut in half for two smaller servings.

Crocodile Pesto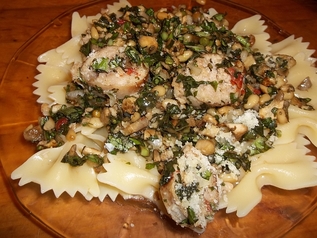 Serves 2 as main dish or 4 as side dish

1/4 cup olive oil
1/2 onion, minced
2 cups finely chopped Agaricus crocodilinus
1/4 cup pine nuts
1/2 to 3/4 cup chopped fresh basil
Pasta, Parmesan cheese

Put water on and cook pasta according to instructions.
Meanwhile, heat the olive oil in a skillet, and saute the onion and mushroom until the mushroom softens and shrinks somewhat. Add the pine nuts and basil. Turn off heat, stirring in pan until pesto is hot. Serve over pasta with Parmesan cheese.