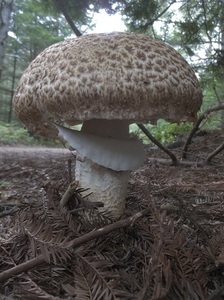 Makes about 1 quart of sauce

1 tablespoon butter or coconut oil
1/4 onion, chopped
2 to 3 cups prince mushroom (Agaricus augustus), finely chopped
1/2 cup toasted almonds
6 to 8 dried candy caps (optional, but they make it really good!)
2 cups milk or half-and-half
1/4 cup Parmesan cheese
1/2 teaspoon salt or to taste
1 tablespoon cornstarch

Melt the butter or oil in a sauce pan. Saute the onion. When the onion begins to brown, add the mushrooms. Saute until the mushrooms have softened and released their water.
Meanwhile, in a blender or other food grinder, grind half the almonds with the candy caps, to a meal. Stir the meal in to the mushrooms and onions, then add all but 1/4 cup of the milk. Bring to a simmer. Stir in the cheese and salt. Simmer slowly for about 10 min. Meanwhile, chop the remaining almonds.
Combine the cornstarch with the remaining milk, and stir into the simmering sauce. Bring back to a simmer while stirring constantly. Remove from heat. The chopped almonds may be added to the sauce at this time, or used as a garnish. Serve over pasta. May also be garnished with extra Parmesan, or chopped chervil, parsley or chives. Left-over sauce is good spread on toast.