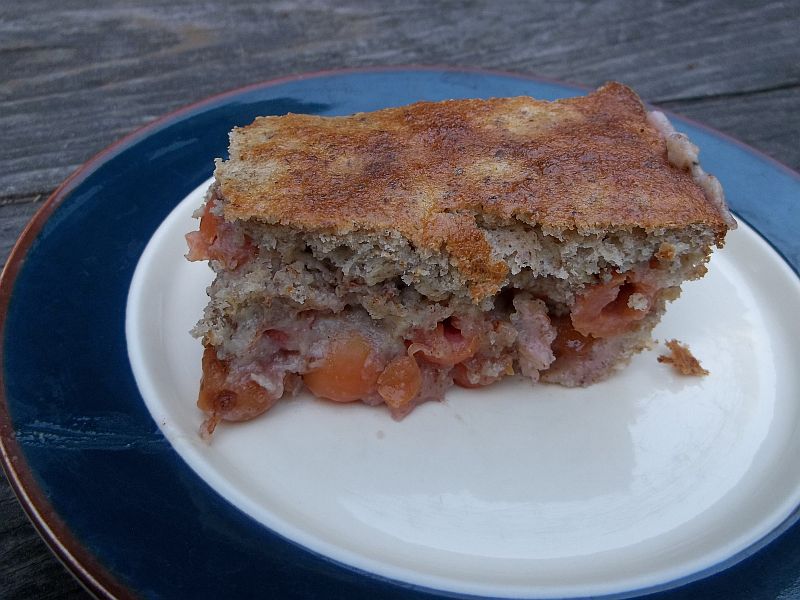 I happened to get my hands on an abundance of pie cherries and some sourdough starter that needed using. They made a fantastic cobbler, but I thought it would be even better with some of my meager supply of dried candy caps, and it was. Here is the recipe, which would be just as good, or even better, with peaches, apricots, plums, berries, pineapple or apples in place of cherries, lessening the sugar if the fruit is sweet. If you don't have sourdough starter, substitute a batter of 1 1/2 cups buttermilk with enough flour to make a thickish batter (pourable, but with body).

Makes12 servings

1 quart pitted pie cherries or other fruit
1/2 to 1 cup sugar
1 teaspoon cinnamon
2 cups sourdough starter (in the form of a thick batter)
3 eggs, separated
2 tablespoons dried ground candy caps
pinch of salt
1/4 tsp. baking soda

Grease a 7 by 11 inch (2 quart) baking pan. Preheat the oven to 350°F. Mix the fruit with 1/4 to 1/2 cup sugar and the cinnamon. Spread the fruit in the bottom of the pan.

Stir the egg yolks, salt and the candy caps into the batter. Beat the egg whites until stiff. Fold the egg whites and baking soda into the batter. Bake for about 30 minutes, or until the surface is golden and no longer dents from a finger-touch to the surface. May be served hot or cold, but the cobbler will fall a little if it's cut hot.