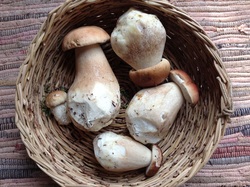 Yesterday I pulled some Boletus edulis out of the freezer for an out-of-season treat, and this is what I wound up with!

Serves 2

1 cup frozen or fresh king bolete buttons, sliced
2 cups zucchini, julienned
1/2 onion, finely chopped
2 tablespoons olive oil
4 cloves garlic, minced
1/4 cup hamburger, sausage or chicken (optional)
1/4 cup grated Parmesan cheese
spaghetti or other pasta for 2

Saute the mushrooms, zucchini and onions together in the olive oil, in a lidded pan, stirring frequently, until they are cooked through, or beginning to brown, as you like them. (Meanwhile, cook the pasta, according to instructions on the package.) Add the garlic and meat to the vegetables, and cook, unlidded, until the meat is done and the liquid has evaporated down to a sauce. Add half the Parmesan cheese and serve over pasta, garnished with the remaining cheese.